IALE Turkey has recently been launched under PAD (the Turkish Landscape Research Society), which is a non-governmental organization established by young scientists and volunteers in 2012, Ankara. In 2014, the first cooperation between IALE and PAD was set up during the International Congress on Landscape Ecology `Understanding Mediterranean Landscapes: Human vs Nature`. With the great support of IALE International (and the Society for Conservation Biology, SCB), the congress was successfully held with the participation of 96 people from 17 countries.
IALE Turkey has 38 members with various backgrounds: landscape architects, ecologists, urban planners, biologists, and foresters. The executive committee is composed of Hakan Alphan, PhD (President - Çukurova University), Çiğdem Coşkun Hepcan, PhD (vice president - Ege University), Eray Çağlayan (Secretary General - WWF Turkey), Yüksel Ünlükaplan, PhD (treasurer - Çukurova University), and Gökçen Kunter Karaduman (member).
IALE Turkey aims to:
address natural and cultural components within the scope of landscape by a holistic approach; to emphasize the significance of ongoing flows and functions within the landscape, to protect this structure along with resident human beings and other livings; to contribute to sustain and leave a good legacy for future generations and raise public awareness for this purpose,
evaluate anthropogenic activities that influence natural and cultural landscapes from the landscape ecology perspective
redefine human needs within the space perception, to evaluate production-consumption patterns within resource management and to encourage best available technologies for this management purpose, and development and propagation of architectures and lifestyles,
organize meetings, workshops, summer schools and short courses on landscape ecology,
encourage dissemination of methods and technologies of landscape research,
inform the researchers and students about upcoming scientific meetings and new publications and encourage them to attend these meetings,
coordinate cooperation among landscape researchers in Turkey and other IALE chapters.
PAD has conducted projects related to climate change adaptation in urban and suburban landscapes. In these projects, PAD has focused on native vegetation, rainwater management, green infrastructure and ecosystem services. Many freely available guidebooks, fliers, posters, websites were prepared to disseminate the knowledge on these subjects. In addition, PAD have organized and supported many symposiums and conferences on local and national scales.
The last scientific meeting, `International Conference on Climate Change Adaptation: Green Revision for Resilient Cities` was organized by IALE Turkey with the partnership of Izmir Metropolitan Municipality between 7-8 March 2019 in Izmir, Turkey. Prof. Dr. Felix KIENAST, Assoc. Prof. Frank van der MEULEN, Prof. Dr. Jürgen BREUSTE, Prof. Dr. Cristian IOJA, Prof. Dr. Vasilije ISAJEV, Prof. Dr. Hakan ALPHAN, Prof. Dr. Süha BERBEROĞLU, Prof. Dr. Nüzhet DALFES, Dr. Nuran TALU, Dr. Başak AVCIOĞLU ÇOKÇALIŞKAN, Esra BAŞAK, Semiha DEMIRBAŞ ÇAĞLAYAN, and Gökçen KUNTER KARADUMAN were invited as keynote speaker. More than 350 participants from local and national governments, NGOs, scientist and students from universities attended this conference.
We are eager to promote landscape ecology researches under IALE umbrella.
Assoc. Prof. Dr. Çiğdem COŞKUN  HEPCAN (Vice President IALE Turkey)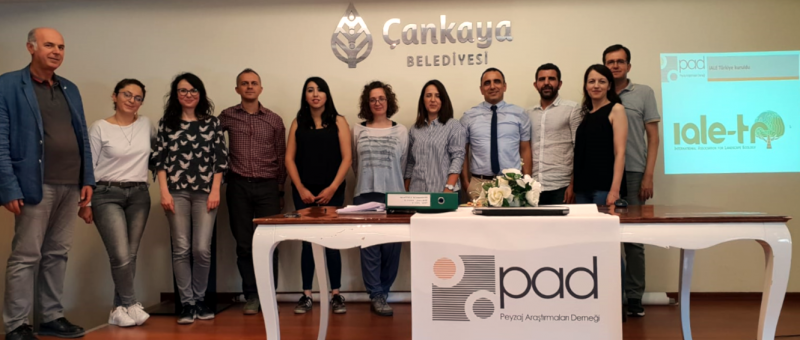 Some member of the executive committee and regular members of IALE Turkey on the General Assembly of PAD (October 2018)

International Conference on Climate Change Adaptation: Green Revision for Resilient Cities (March 2019, Izmir)
[National chapter in the spotlight - Spring 2019]