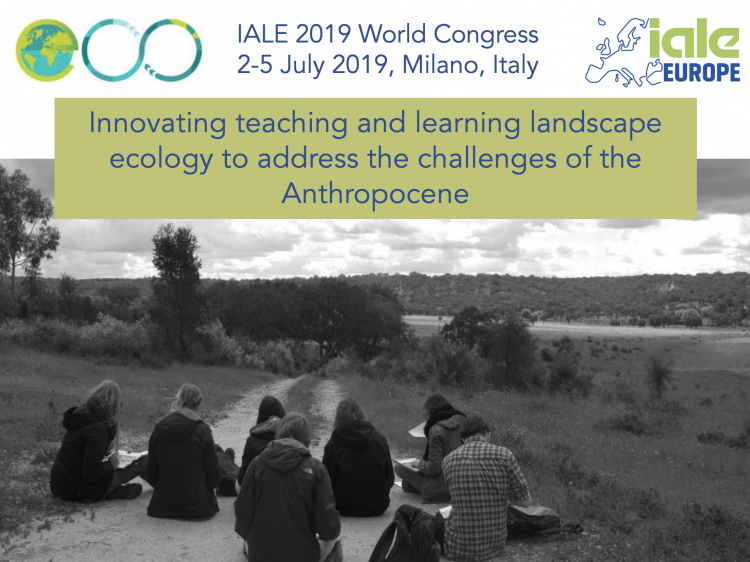 Reflections from the IALE World Congress
Symposium "Innovating teaching and learning landscape ecology to address the challenges of the Anthropocene"
During the IALE World Congress 2019 in Milan, IALE-Europe organised the symposium "Innovating teaching and learning landscape ecology to address the challenges of the Anthropocene", fitting in the activities of the Working Group Landscape Education. 12 different presentations and 5 posters were presented during the session. 
Contributions
Teaching methods
Anneliese Fuchs - Between theory and practice - New training formats against the background of changing needs
Rosalea Monacella - Landscape' / 'Architecture' | 'Seeing'/ 'Acting' Structuring disciplinary dichotomies for ecological learning
Marta Panisi - Going beyond traditional teaching methods with Inquiry Based Science Learning (IBSE) 
Curricula
César Agustín López Santiago, Jose Antonio Gonzalez Novoa- Bringing Landscape closer to biologists: teamwork for facing Anthropocene challenges in real life socioecosystems 
Oxana Klimanova, Nina Alexeeva - Landscape ecology in environmental education in Russian universities: is there a need for change in a changing environment? 
Adriana Ghersi, Ilda Vage - Teaching and learning landscape to landscape architects in Italy. Toward protective, adaptative, redundant landscape design 
Erica Smithwick Smithwick - LandscapeU: training the next generation of landscape ecologists in solving food-energy-water challenges at landscape scales 
Helene Wagner, Melanie Murphy, Lisette Waits - Interdisciplinary training through a distributed graduate course: DGS Landscape Genetics

Emily Okallau - Growing roots: using data to connect people to the trees in their communities 
Project learning
Matteo Lener, Maria Cecilia Natalia, Paola Vinesi - LIFE "Sic2Sic - In bici attraverso la Rete Natura 2000 italiana" – creative writing in primary schools to increase knowledge on the importance and role of the Natura 2000 Network 
Ulrike Tappeiner, Johannes Rüdisser, Sarah Kerle - Experiencing ecosystem services in the landscape

Maria da Graça Saraiva, Isabel Loupa-Ramos, Veerle Van Eetvelde - Learning landscape ecology in the landscape: Educative tools in the context of a landscape observatory 
Posters
Martina Fava, Claudia Canedoli, Emilio Padoa-Schioppa - In search of Nature: Teaching ecosystem services concept into primary school
Annastella Gambini, Serena Ciulla - Perceiving landscape as a special place through total immersive experiences
Elizabeth Han, Karl Korfmacher - From Rochester to Malmö: An international cross-institutional urban ecology course
Franca Zuccoli, Valeria Pecorelli, Alessandra De Nicola - Mobartech: experiencing local heritage and cultural landscape in a Unesco site
Annelies Van Caenegem, Isabel Loupa-Ramos, Maria da Graça Saraiva, Veerle Van Eetvelde - Getting out in the field: learning through experience in an unfamiliar landscape
Symposium description
Read more here.