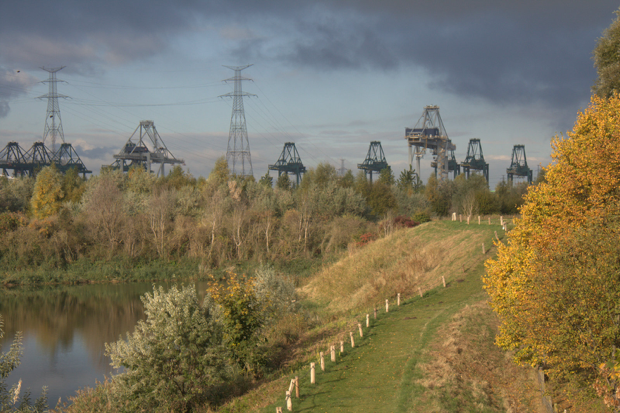 From polder to heathland in northeast Antwerp: Stabroek – Mastenbos – Kalmthoutse Heide  
The landscape in the northeast of Antwerp is characterised by a natural and clear border between claying soils with polder lands and the sandy soils with vast common heathlands and forest areas. The specific soil and ecological differences are clear in the different landscape types, which also have different cultural developments. The polder lands disappeared  due to the development of the harbour of Antwerp, but the reclamation pattern is still very recognisable. Moreover, the area has different layers of military structures from mid 16th to mid 19th century to protect Antwerp. Later on, during and after WWI, more contemporary military elements (bunkers, trench lines, canal) were added. The historic common heathlands and forested areas are well maintained and create extensive natural areas.
This excursion will pay attention to the two specific areas.
In the morning, we will pass along the developments of the harbour of Antwerp and drive into the polder lands of Stabroek. The second stop is one of the forests, 'Mastenbos'. This has a unique and authentic relict of WWI trenches, which were detected on aerial images and LiDAR data. The current management of the forest is a nice example were the ecological and heritage values are integrated in the current management plan.
The afternoon will be spent in the area of the heathlands: the 'Kalmthoutse Heide', next to the Duch border. The central part of the heathland, almost 1000ha, is one of the largest strict nature reserves in Flanders. It is the core of the 2000ha protected complex heath landscape of the Kalmthoutse Heide and the 3750 ha Dutch-Flemish cross-border nature park 'De Zoom – Kalmthoutse Heide'. Attention will be paid to physical environment and the influence of human in the area as well as different land uses such as the dunes, dry and wet heath and the heathland pools and how these are integrated in the current management of the reserve.  
Organisation:

Wouter Geyhle (Ghent University, Department of Archaeology & Province Antwerp), John Otten (Agency Nature and Forest), Geert De Blust (Research Institute Nature and Forest INBO)

Format:

Bus trip to the excursion area, short to long walks on the different stops.

Duration:

Full day, picnic lunch will be provided in the visitor centre.

This excursion leaves at 8h30 in front of the station of Ghent Dampoort and will be back around 19h (depending on the traffic around Antwerp).

Max. Participants:

35