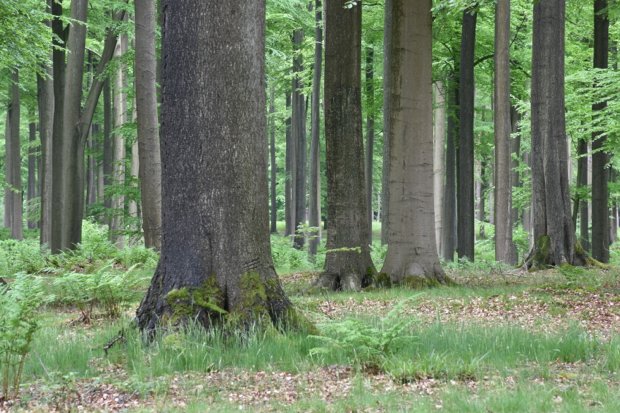 The Sonian Forest is the largest forest area in Belgium and one of the top European nature areas. It has a unique location crossing the three regions of Belgium, on the edge of Brussels. It's 4,400 hectares has a varied structure and composition; 70 percent of the area is covered by beech forest. It is a remnant of the so-called 'Silva Carbonaria', which extended in the Roman times from the rivers Rhine and Moselle to the North Sea. The soil of the forest has been untouched since the last glacier period, since no agriculture and only minimal grazing took place over the years. The different areas in the forest are characterised by a variety of valuable habitats with rare plants and animals.
The forest is composed of different nature and forest reserves as well as protected landscapes, partially due to the different administrative regions and legislations. To strengthen the different values of the forest, the three regions are collaborating since 2008, striving towards an integrated vision for the future management of the forest. Since the forest is fragmented by the highways around Brussels, one of the goals of the management is connecting the different areas, which is the objective of the European LIFE+ OZON project. An ecoduct is currently in construction above the rind road of Brussels. 
In July 2017, the forest has been recognised as UNESCO World Heritage, as one of the 78 exceptional beech forest in 12 European countries. The forests are representative because of their common testimony of a unique evaluation and the impact of the specific ecosystem of beech forests in Europe since the last Ice Age.
The excursion will start and end in the visitor centre and forest museum. There will be a 2-hour walk in the forest, focussing on the relation between ecological and cultural values that contributed to the UNESCO protection. Afterwards, we will end the excursion in the visitor centre for a picnic lunch before returning to Ghent.
See also: http://www.sonianforest.be
Organisation:

Frederik Vaes (Leefmilieu Brussels), Annelies Van Caenegem (Department of Geography, Ghent University)

Format:

Bus trip to the forest, walk in the forest. Take proper walking gear (boots) with you for the walk in the forest.

Duration:

Half day (morning). This excursion leaves at 8h30 and will be back around 14h30.

A picnic lunch will be provided in the visitor centre.   

Max. Participants:

35
Comment: this excursion replaces the excursion to Forest t'Ename.