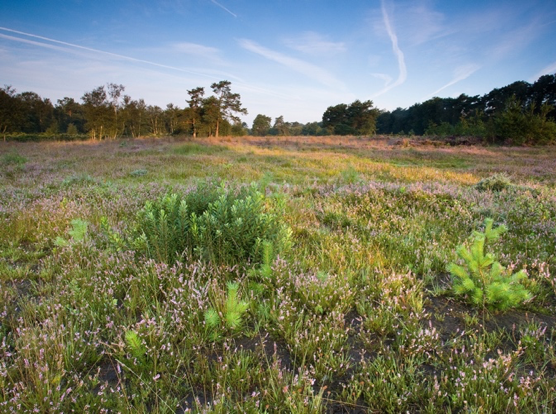 Landscape 'De Liereman' - nature reserve with geo- and biodiversity
Landscape 'De Liereman' is a 1000 ha historic landscape and important nature reserve (Natura 2000) in the Campine area in northern Belgium (near the city of Turnhout). It comprises heathlands, pine forests, fens and bogs, arable and grasslands. Nature management is aimed at the restoration of heathland in all its gradients (outfield) and the traditional agricultural landscape (infield). Over the past 10 years, extensive negotiations have been taken place between the nature sector and the agricultural sector, with good result, reinforcing both nature and agriculture.
The region is characterized by a north-south topographical gradient with dry sand dunes and wet marshes and a west-east anthropogenic gradient from agricultural land to undisturbed natural soils. As such, it is a pattern of typical soils for the region and a living memory of landscape evolution and former land-use. Thus Landscape 'De Liereman' has a high heritage value, including Palaeolithic and Mesolithic archaeological sites, World War II heritage, 19th-century water meadows, a former leech nursery, and many more. Therefore, preservation and presentation of the 'geo-diversity', as opposed to 'bio-diversity', is included as a main goal in the management plan. Some principles regarding the conservation of soils were adopted, every action to improve bio-diversity is weighed to preservation of geo-diversity and soil and heritage research is stimulated.
The excursion consists of visits in both the dry and the wetter part of the landscape and includes a closer look at the prototype of a 'soil slider'. This is a new method for in-situ presentation of soil and archaeology to a broad public. The location chosen for the prototype is a heathland setting with a podzol and with Mesolithic occupation.
A biological lunch is served at the local visitor centre. Oh yes, they also have Gageleer, an organic beer made with bog myrtle (Myrica gale) from the reserve.
This excursion is sponsored by Regional Landscape Kleine and Grote Nete.
Organisation:

Jan Bastiaens (Flanders Heritage Agency) & Bas Van der Veken (Regional Landscape Kleine en Grote Nete). Both are managers of Landscape De Liereman.

Format:

Bus trip to the excursion area, walks in different places in the nature reserve.

Duration:

Full day, lunch will be provided in the visitor centre.

This excursion leaves at 8h30 in front of the station of Ghent Dampoort and will be back around 19h (depending on the traffic around Antwerp).

Max. Participants:

35